The 2020 NFL Draft Class looks to be loaded from top to bottom. Highlighted by big name quarterbacks, and dominant defensive lineman, this Draft looks to be one of the best in recent years. Most notably, this class stands out for it's incredible depth at Wide Receiver, with standouts like Jalen Reagor, from TCU, projected to slip out of the first round. Even more interesting story lines can be found, such as quarterback Jalen Hurts, out of Oklahoma. Some see Hurts falling out of the Draft, and others see him sneaking into the end of the first round. This class is almost as deep with story lines as it is with talent. With the Draft still a ways away, we wanted to give you a sneak peak at what April 23rd may look like.
1- Cincinnati Bengals: Joe Burrow, QB LSU
It's alarmingly obvious that Ryan Finley is not a legitimate long term solution for Cincinnati, so they will likely look to Joe Burrow as their franchise quarterback. Burrow's improvement year to year was astronomic, and he's made himself into a clear cut top prospect. With Tua Tagovailoa's devastating injury, no other quarterback prospect comes close to Joe Burrow. Burrow possesses an arsenal of intangibles and talent, despite not having an extremely big arm.
2- Washington Redskins: Chase Young, EDGE Ohio State
After losing to the Giants in Week 16, the Redskins secured the number 2 pick. This had to sting for Giants fans, as now instead of cheering on Young, they have to play him twice a year. Young was arguably the best player in college football last season. Terrific athleticism mixed with impressive size makes Chase Young one of the most desirable prospects in this class.
3- Detroit Lions: Jeff Okudah, CB Ohio State
Ohio State claims back-to-back top 3 picks in this Mock, after the Lions pickup the best coverage corner in the class. Current Lions' CB, Darius Slay, has already shown interest in the young Ohio DB. Slay called Okudah "One hell of a player". Slay went on to say, "I watch his film, I watched some of his games, man. He competes at a high level. There's a lot of stuff I can help him with". With Slay turning 29, as of January 1st, the Lions could look for a possible replacement in this years class. If that's the case, Okudah looks to be the first option.
4- New York Giants: Andrew Thomas, OT Georgia
After allowing a whopping 43 sacks in 2019, the Giants can't miss out on the top offensive lineman in the draft. Thomas offers great size, standing at 6'5″ and weighing in at 320 lbs. New York has to protect their investment in Daniel Jones, and Thomas is a great start. New York's young core of players is arguably an offensive line away from being a playoff caliber team, with weapons such as Saquon Barkley, Sterling Shepard, Darius Slayton, and Daniel Jones. It's not the most glamorous selection at the 4 spot, but its a necessary pick.
5- Miami Dolphins: Tua Tagovailoa, QB Alabama
After Tua's devastating injury against Mississippi State, Joe Burrow became the clear cut top quarterback prospect, but that shouldn't keep Miami from pulling the trigger on Tua. With a plethora of first round picks, the Dolphins have options. Securing their franchise quarterback could prove to be low risk, high reward if they nail their other selections. Tua was the highest touted prospect preseason, and landing him at five is an absolute win for Miami.
6- Los Angeles Chargers: Justin Herbert, QB Oregon
With Phillip Rivers' future with the Chargers in doubt, they can't miss out on their future franchise quarterback. After two other quarterbacks were taken in the top five, LA can't wait on Herbert. He possesses all the talent in the world, but many complain about the lackluster amount of breakout games the Oregon quarterback had. Herbert is undoubtedly a risky pick, but paired with weapons such as Kennan Allen and Melvin Gordon, Herbert has the potential to be one of the greats from this draft.
7- Carolina Panthers: Isaiah Simmons, LB Clemson
Simmons was one of the most dynamic players in college football, with the ability to play linebacker and safety. With the loss of seven time Pro Bowler, Luke Kuechly, the Panther's line backing group leads a lot to be desired. With some question marks at quarterback, many expect the Panthers to draft Cam Newton's successor, however the Panthers don't need to reach on a quarterback. When a talent like Isaiah Simmons falls to you at the seventh spot, you take him.
8- Arizona Cardinals: CeeDee Lamb, WR Oklahoma
The wide receiver flood gates have opened. The main question of this class is which team will pull the trigger on a wide out first? This class is loaded from top to bottom with talented receivers, which could give many franchises a reason to wait on selecting one. However, Lamb is a perfect fit for Arizona. He provides incredible play making ability, as well as top tier route running. Kyler Murray and CeeDee Lamb have proven chemistry. They were one of the most prolific duos in college football in 2018. With future Hall of Famer, Larry Fitzgerald, running out of years, the Cardinals could look to CeeDee Lamb to fill that soon-to-be void.
9- Jacksonville Jaguars: Derrick Brown, DL Auburn
Simply put, you can't pass on Derrick Brown if he's available at nine. He was the leader of an Auburn defense that held Joe Burrow in check. Jacksonville could end up with the best pass rush in the league, with young star Josh Allen accompanying Derrick Brown. Brown's 308 pound frame will make him extremely hard to handle up front.
10- Cleveland Browns: Jedrick Willis Jr., OT Alabama
The Browns may have the most blaring need at offensive line in the league. After allowing 38 sacks over 16 games, they're lucky Baker Mayfield even stayed healthy throughout the season. Despite having a promising rookie season, Mayfield threw 21 interceptions, and only 22 touchdowns. They picked Mayfield higher than many expected, and now they have to protect him. Willis offers adequate size to be the building block of Cleveland's offensive line, coming in at 6'5″ and 320 lbs. Cleveland may try and trade up to select Andrew Thomas, but if Willis falls to the Browns, they'll likely select him.
11- New York Jets: Mekhi Becton, OT Louisville
Similar to Cleveland, the Jets absolutely need an offensive tackle. With several other teams ahead of them having the same need, the Jets are likely to trade up. While Becton is by no means a bad pick, there are better options earlier in the draft. The Jets have other holes in their roster, such as wide receiver. With a class this deep at receiver, the Jets will more than likely wait until the second round to acquire a receiver.
12- Las Vegas Raiders: Jerry Jeudy, WR Alabama
After the Antonio Brown debacle, the Raiders need an explosive play maker. Jeudy is one of the most interesting players in this class. He could fall anywhere from four to around fifteen. Being one of the best route runners in this class, Jeudy is a perfect fit with Las Vegas. With the new city, they could use a new playmaker. Jeudy can be that guy.
13- Indianapolis Colts: Javon Kinlaw, DL South Carolina
With four time Pro Bowler, Justin Houston, on his way out the Colts will likely draft a successor, rather than a quarterback. Indianapolis will likely target someone like Jalen Hurts, Jake Fromm, or Mason Fine in later rounds. Kinlaw dominated the senior bowl, and could prove to be one of the biggest steals in this year's draft.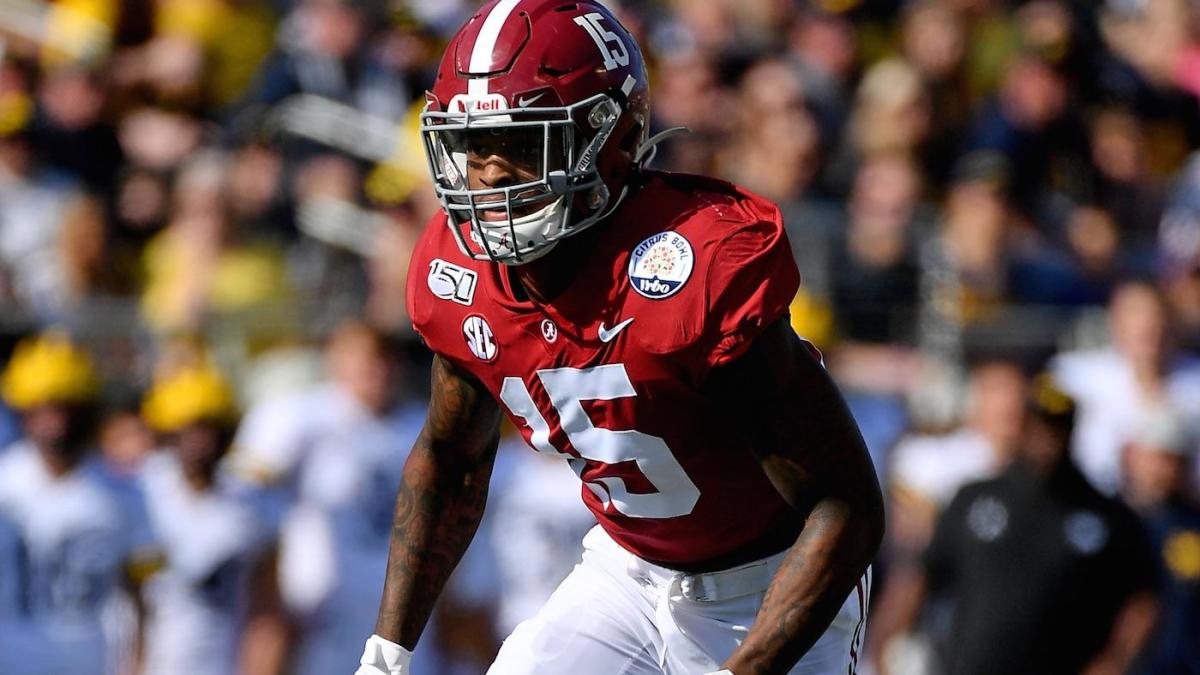 14- Tampa Bay Buccaneers: Xavier McKinney, S Alabama
Tampa Bay will likely give Jameis Winston another shot in 2020. After passing on Derwin James, the Bucs can't mess this pick up. They need help at safety, and McKinney is one of the best in this class. Despite playing alongside Deionte Thompson, McKinney was the best safety in the state of Alabama last year.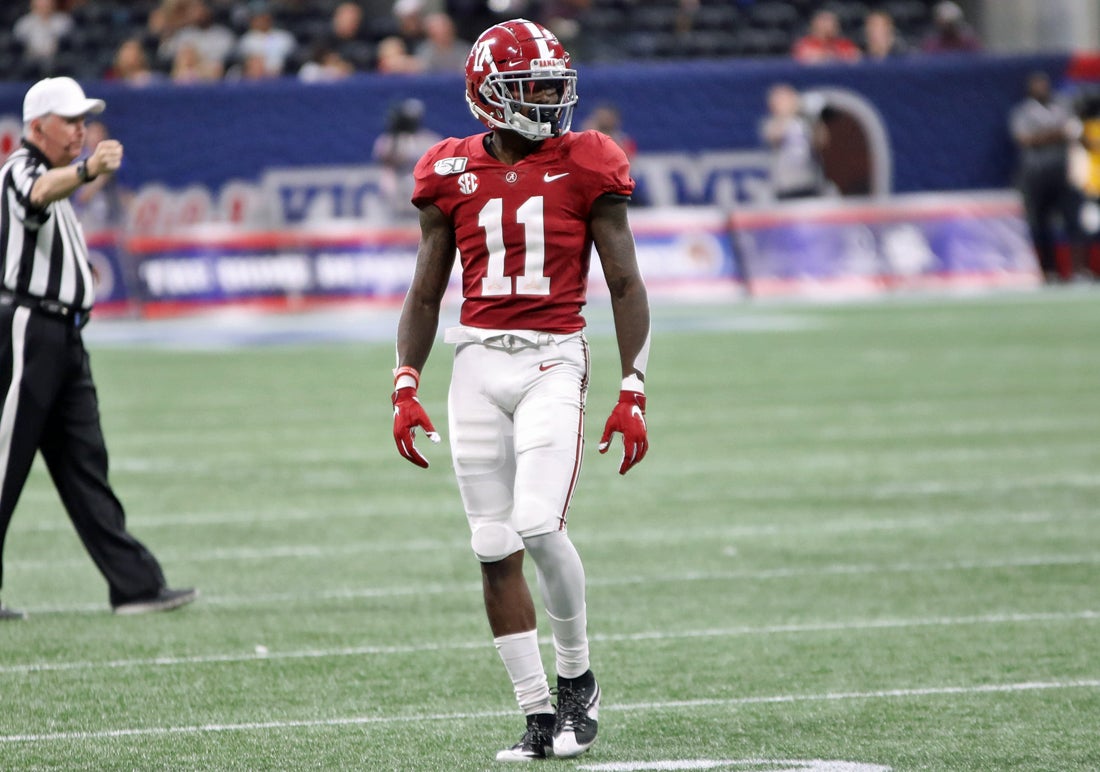 15- Denver Broncos: Henry Ruggs III, WR Alabama
So far, Alabama has dominated the first round, accounting for five total picks. After picking up Drew Lock last season, they need to acquire weapons. Ruggs would be a perfect compliment to Courtland Sutton, and Phillip Lindsey. Ruggs was able to tally up 746 yards and 7 touchdowns in 2019, despite playing in one of the best receiver groups of all time. Ruggs is one of the most explosive players in this years draft, and can provide immediate production in Denver.
16- Atlanta Falcons: A.J. Epenesa, DE/OLB Iowa
Coming out of high school as a five star recruit, Epenesa has been dominant his whole career. Atlanta has needed help with the interior defensive line for quite some time now, and Epenesa could provide that. There's a solid likelihood that the Falcons trade up to Jacksonville's pick and draft Derrick Brown, but if they stay with the 16th pick, Epenesa should be available.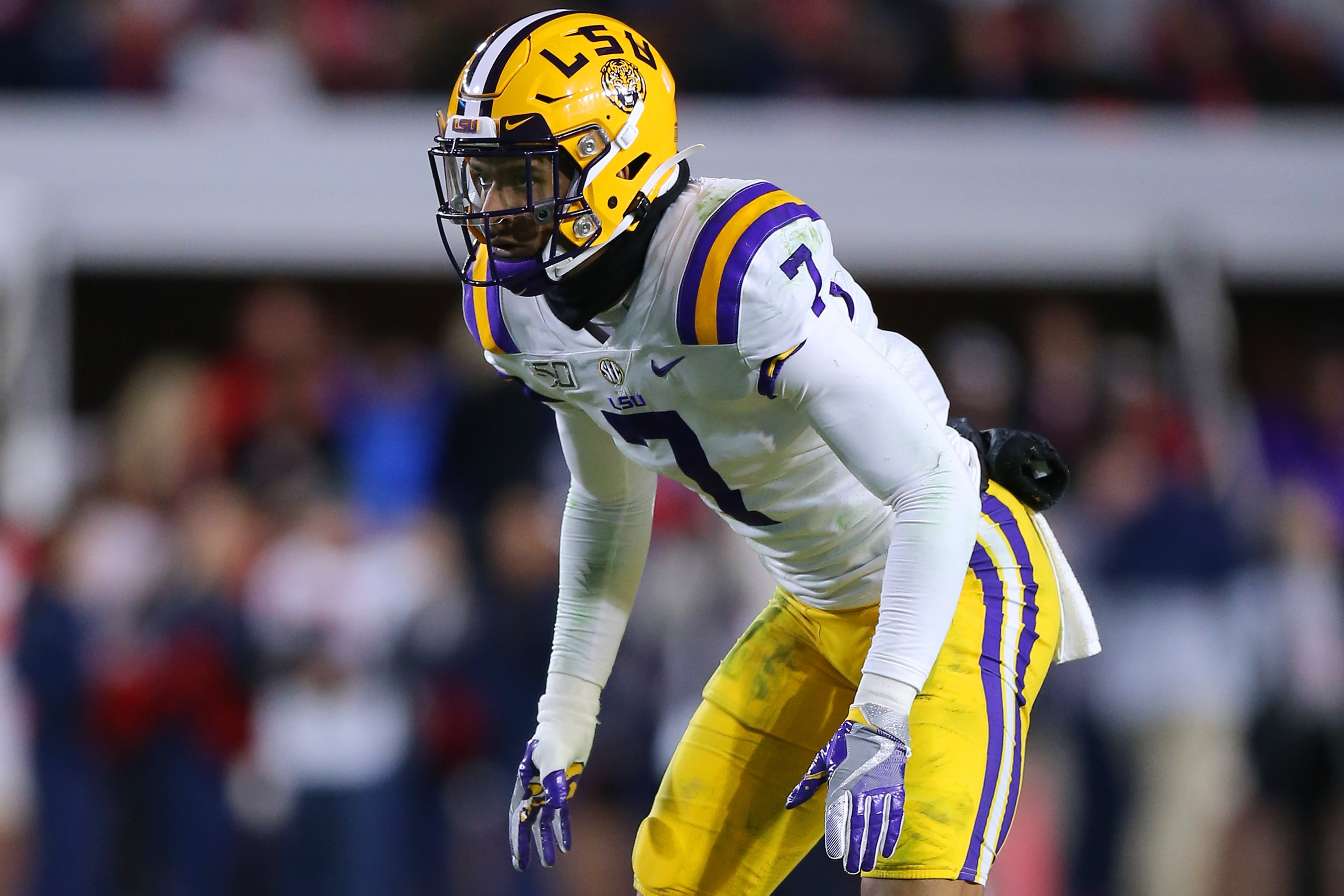 17- Dallas Cowboys: Grant Delpit, S LSU
After fighting injuries. Delpit's stock dropped mightily. Originally projected as a top five pick, its a bit of a surprise that Delpit managed to fall this far. Delpit is a risky prospect, but could end up being the Derwin James of this class. The Cowboys need secondary help to top off a stacked defense, and with McKinney off the board, Delpit is the way togo.
18- Miami Dolphins: Tristan Wirfs, OT Iowa
After investing in Tua with the fifth pick, it's time to protect your investment. Wirfs is a 320 pound run blocking machine. If he can become a better pass blocker, Wirfs could be a franchise tackle for Miami, and can be the cornerstone for the Dolphins' offensive line. The Dolphins desperately need to upgrade their offensive line before they throw Tua back there.
19- Oakland Raiders: Kenneth Murray, LB Oklahoma
The Raiders need a leader on Defense, and Murray is a pure field general. He commanded Oklahoma's improving defense last season. Murray was a tackling machine with the Sooners, tallying a record breaking 28 tackles in a single game against Army. Murray can be the cornerstone for any defense he steps into, and has as much potential as anyone else in the class. Overall Kenneth Murray could be one of the biggest steals in this year's draft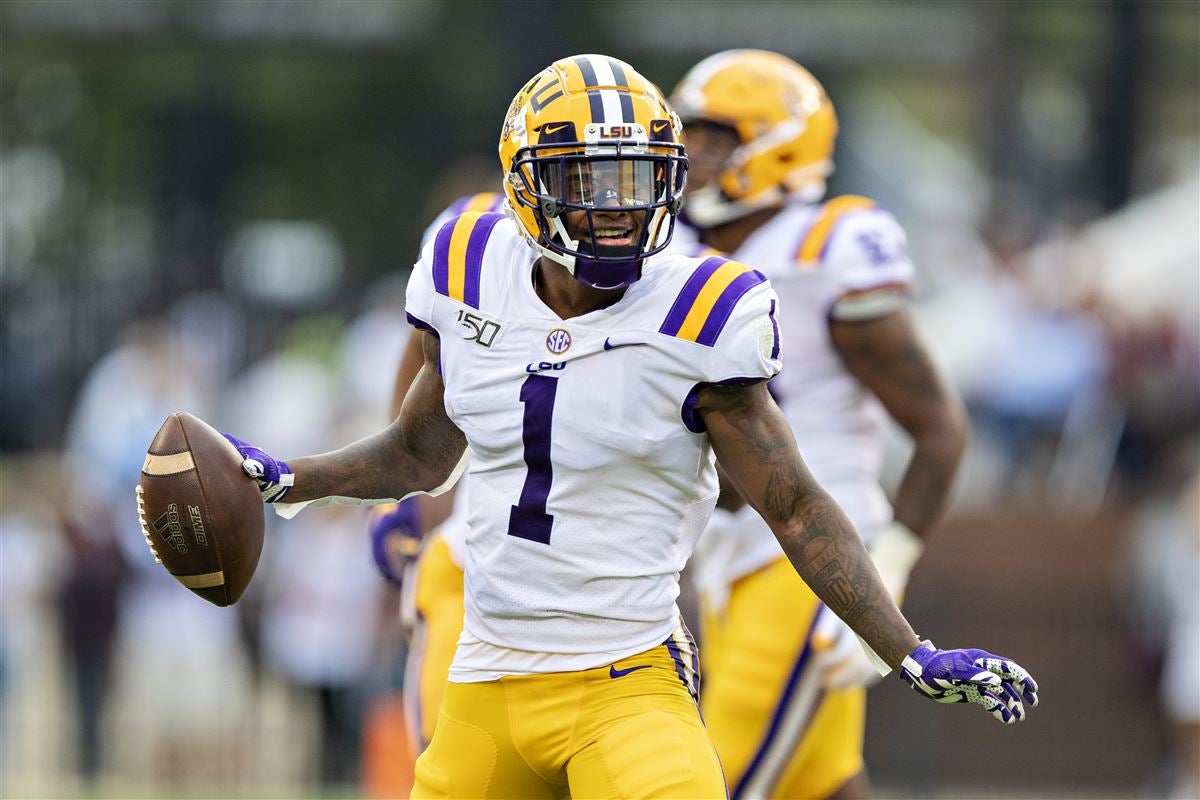 20- Jacksonville Jaguars: Kristian Fulton, CB LSU
Since trading Jalen Ramsey to the Los Angeles Rams, the Jags have needed secondary help. Getting Fulton as 20 is a huge victory for Jacksonville. Fulton accounted for 14 passes defensed, which was one of the best in college football. Fulton was a vital piece of LSU's national championship defense. Jacksonville has to draft a coverage corner to make adjusting to life after Ramsey a bit easier.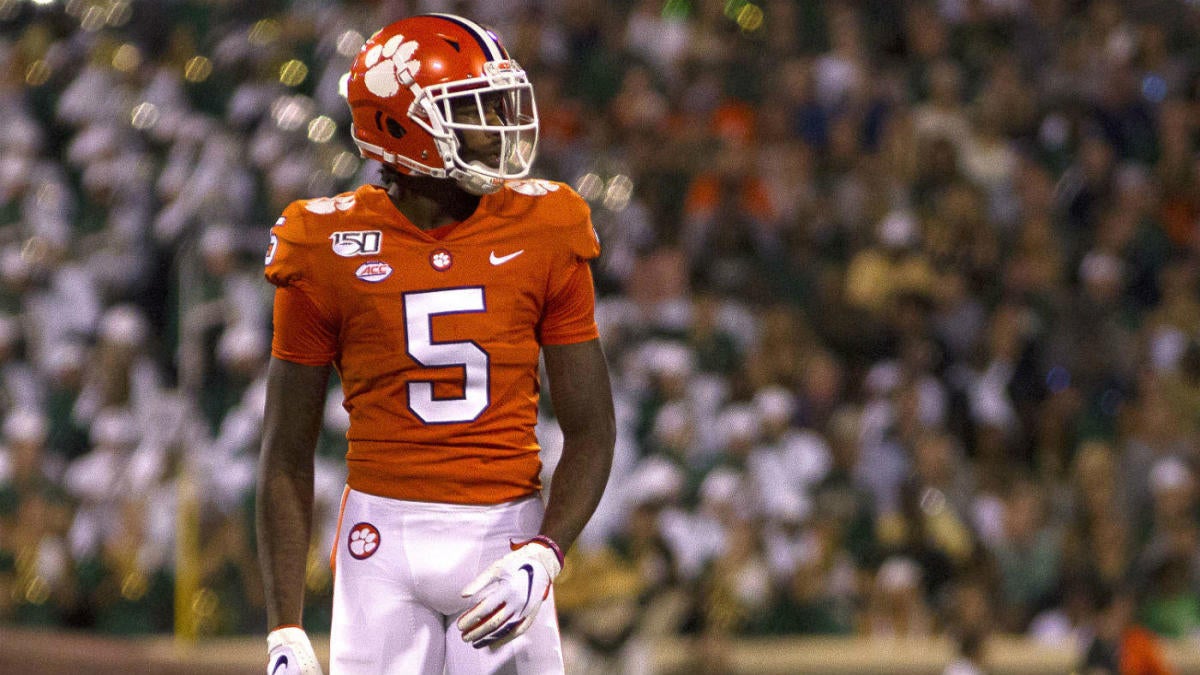 21- Philadelphia Eagles: Tee Higgins, WR Clemson
After the Eagles receiving corp had a laughable season, it's time to try and get Carson Wentz another weapon. DeSean Jackson is on his way out, and Alshon Jeffrey can't stay healthy. If not Tee Higgins, the Eagles need to get a free agent wide out.
22- Buffalo Bills: Laviska Shenault, WR Colorado
With rookie running back, Devin Singletary, and young quarterback, Josh Allen, the Bills offense is just missing one more piece to be dominant. Shenault is one of the best run after catch wideouts in America, and can provide an instant jolt to this young Bills offense.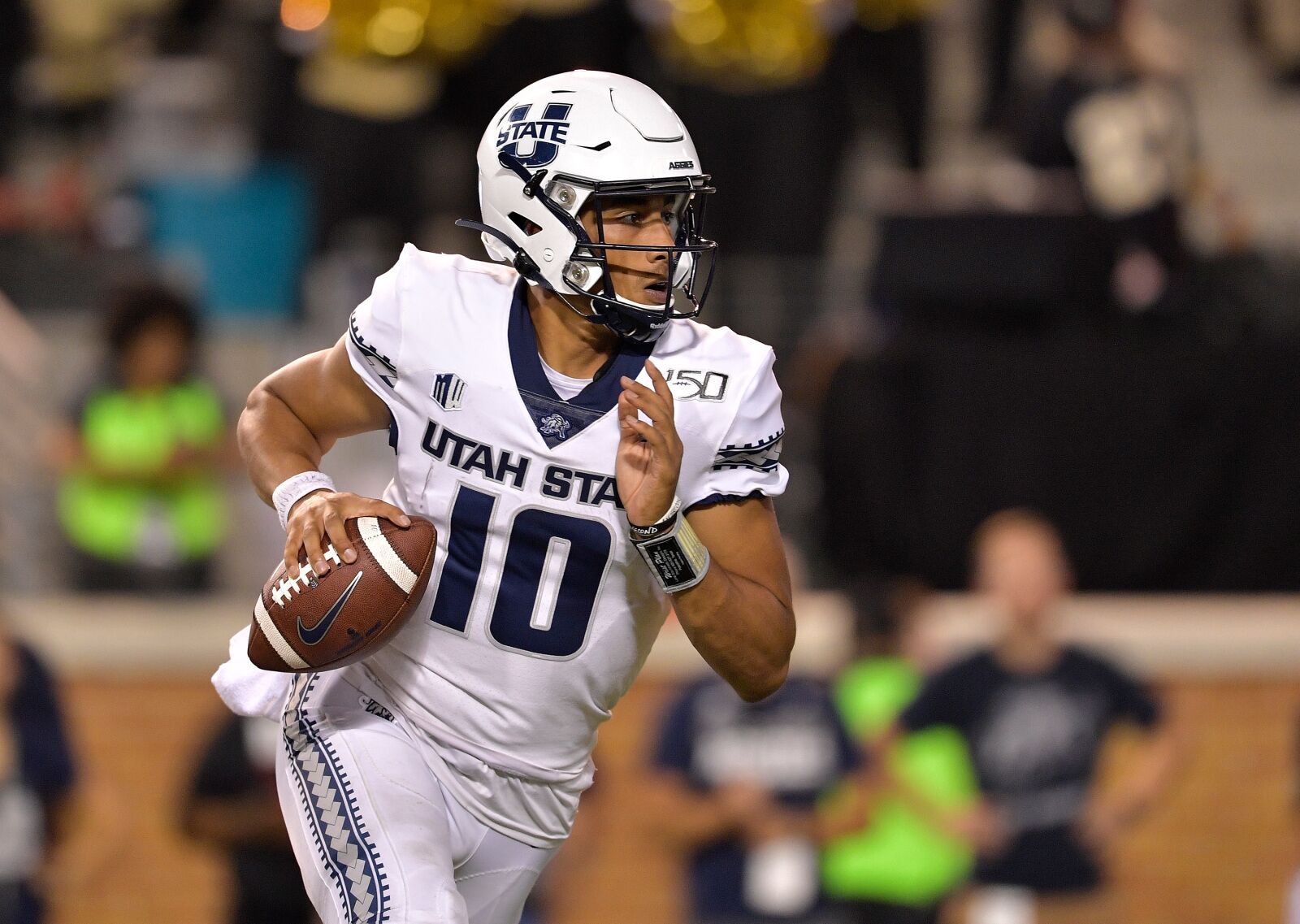 23- New England Patriots: Jordan Love, QB Utah State
Whether or not Brady is actually on his way out of New England, the truth remains the same; Brady is not the long term answer in Foxborough. Being 42 years old, Brady has three or four years left max. Love is nowhere near the most desirable quarterback in this class, but he has a lot of upside. The Patriots can't wait until the second round to try and draft Love. Jordan Love may need a few years to develop, but he could be the long term solution for New England.
24- New Orleans Saints: C.J. Henderson, CB Florida
Unlike New England, the Saints have depth at quarterback. With Taysom Hill and Teddy Bridgewater as options if Drew Brees leaves, it doesn't make much sense for them to reach on a quarterback in the first round. Outside of Marshon Lattimore, the Saints' secondary isn't anything special. Henderson can provide help a to a team that's a dominant secondary away from being a superbowl caliber team.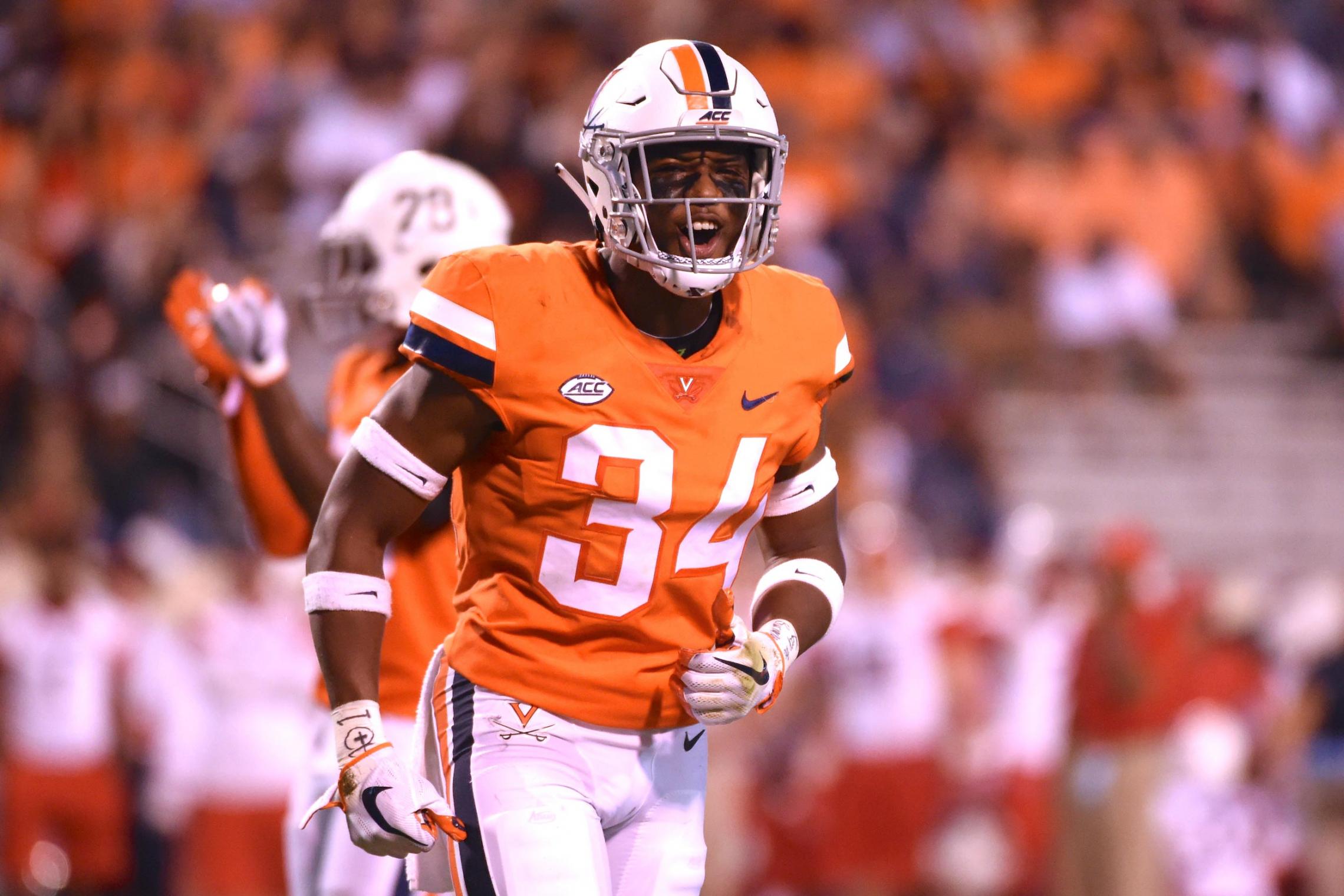 25- Minnesota Vikings: Bryce Hall, CB Virginia
After battling injuries in his final year with the Cavs, Hall's stock is no longer where it was. Whenever he's healthy, however, Hall is one of the most lockdown corners in the nation. Minnesota has needed a corner for a few seasons in a row, and if they can keep him healthy, they've found one with Bryce Hall.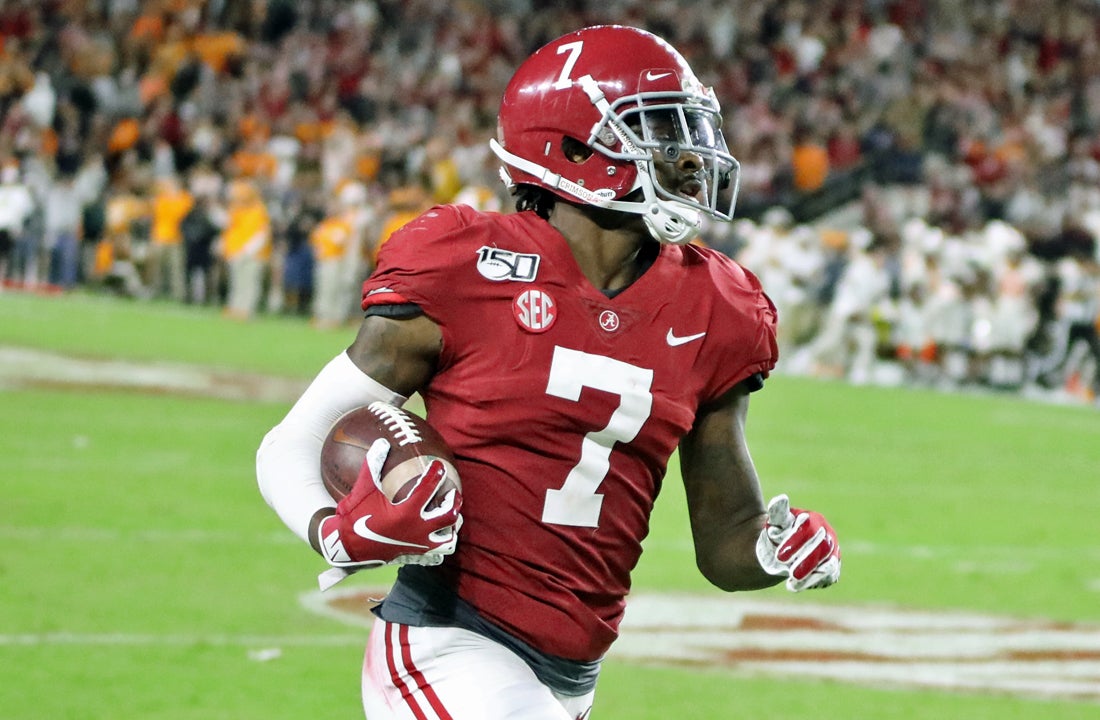 26- Miami Dolphins- Trevon Diggs, CB Alabama
After working on their offense with their first two picks, Miami needs to think defense. Diggs has proven to be a mature prospect, avoiding shoving matches every chance he had. Diggs is a good tackling corner, and could provide immediate support to a Dolphins team that needs help just about everywhere.
27- Seattle Seahawks: Jalen Reagor, WR TCU
After losing Josh Gordon, the Seahawks need another receiver to compliment D.K. Metcalf. Reagor could be the top receiver in most draft classes, but isn't as high is such a stacked class. The Seahawks have been good at identifying solid receiver prospects they can wait on. Reagor is no different. Depending on the combine Reagor's stock could rise, but chances are he'll be available at 27.
28- Baltimore Ravens: Yetur Gross-Matos, DL Penn State
The Gross-Matos slide is over! The Ravens need to start looking for a Terrell Suggs replacement, and Gross-Matos is a steal at 28. The Ravens have a way with landing terrific prospects late in the first round, and Gross-Matos is no exception to that. Very high value pick.
29- Tennessee Titans: D'Andre Swift, RB UGA
The Titans will have to pay Derrick Henry an absurd amount of money to retain him. Even if Henry remains in Tennessee, Swift could be a great compliment to Henry. Swift's speed is one of the best in class, and would create one of the best two headed monsters in the NFL.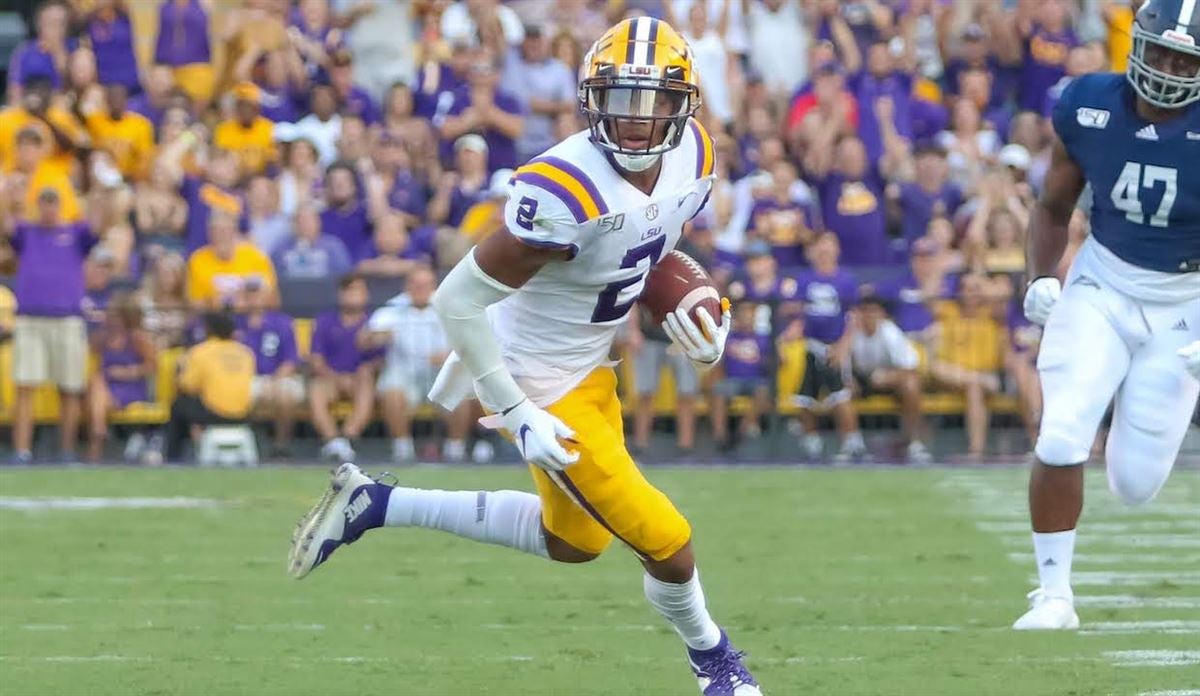 30- Green Bay Packers: Justin Jefferson, WR LSU
Yet another wide out is off the board, and Green Bay got a weapon with this one. Jefferson benefited from catching passes from Joe Burrow in college, and could look to Aaron Rodgers for the same benefit in the pros. Jefferson is a terrific slot receiver, and could give the Packers one of the best passing offenses in the league.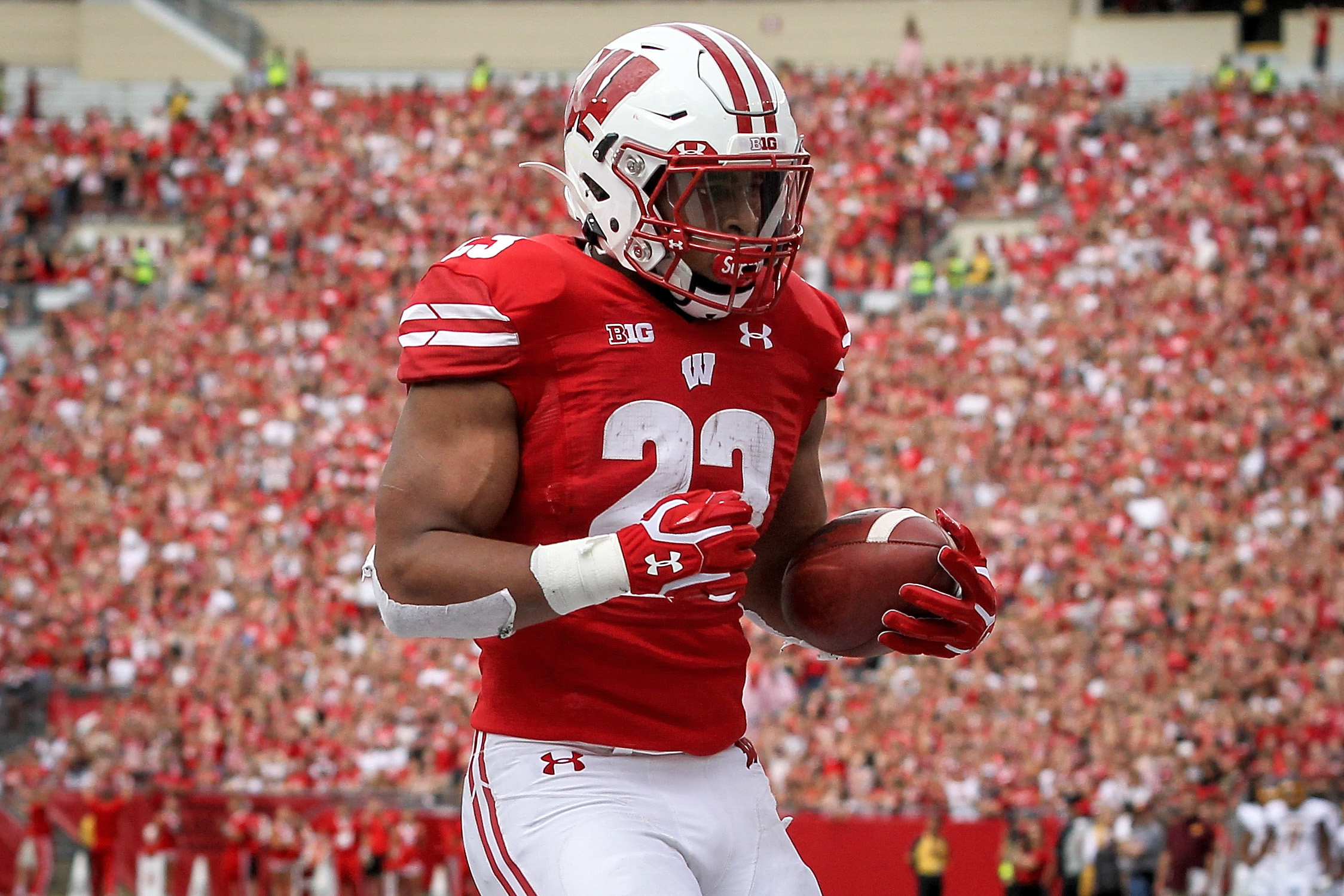 31- Kansas City Chiefs: Jonathan Taylor, RB Wisconsin
Kansas City's lethal offense just got that much better. Adding a grit and grind running back could create yet another wrinkle to one of the best offenses we've ever seen. Taylor was in Heisman conversations all season, as he is one of the best backs in Wisconsin History.
32- San Francisco 49ers: J.K. Dobbins, RB Ohio State
Three running backs in four picks, it's an exciting draft. Dobbins was one of the most prolific backs in the nation, finishing as a Heisman finalist. Dobbins could be a franchise running back in San Francisco, and could push this 49ers offense to the next level.
Images:
https://www.foxsports.com.au/nfl/nfl-draft-2020-college-football-joe-burrow-lsu-quarterback-likely-no1-pick-in-nfl-draft-sec-championship-game/news-story/ade80a466685cfa5f76dad4cc5f46c9e https://www.toledoblade.com/sports/ohio-state/2020/01/03/chase-young-declares-for-nfl-draft/stories/20200103098 https://pantherswire.usatoday.com/2019/12/26/2020-nfl-mock-draft-panthers-jeff-okudah/ https://www.dawgnation.com/football/georgia-football-andrew-thomas-florida-pass-rush https://www.cincyjungle.com/2019/11/16/20968404/alabama-football-news-tua-tagovailoa-injury-bengals-nfl-draft-2020-mock https://www.oregonlive.com/ducks/2018/12/oregon-ducks-thrilled-beyond-words-to-have-justin-herbert-back-in-2019.html https://www.thestate.com/sports/college/acc/clemson-university/article235125837.html https://www.revengeofthebirds.com/2019/9/28/20888858/a-potential-ceedee-lamb-and-kyler-murray-reunion-with-the-arizona-cardinals-in-2020 https://jetswire.usatoday.com/2019/12/31/2020-nfl-draft-jets-matt-miller-mock-draft-jedrick-wills/ https://giantswire.usatoday.com/2020/01/21/new-york-giants-select-ot-mekhi-becton-daniel-jeremiah-first-mock-draft/ https://www.si.com/college/alabama/bamacentral/jerry-jeudy-announces-whether-hell-play-in-the-citrus-bowl https://fansided.com/2020/01/29/javon-kinlaw-2020-nfl-draft-profile/ https://www.cbssports.com/college-football/news/2020-nfl-draft-alabama-db-xavier-mckinney-projected-first-round-pick-leaving-tide-early/ https://247sports.com/Player/Henry-Ruggs-III-86009/ https://www.stampedeblue.com/2020/1/21/21075569/latest-sports-illustrated-mock-draft-has-the-colts-selecting-iowa-pass-rusher-a-j-epenesa https://auburntigers.com/news/2019/11/20/football-auburns-derrick-brown-contends-for-outland-nagurski-trophies.aspx https://bleacherreport.com/articles/2863469-lsu-safety-grant-delpit-declares-for-2020-nfl-draft-after-cfp-title-win https://hawkeyesports.com/sports/football/roster/tristan-wirfs/13397 https://www.crimsonandcreammachine.com/2020/1/2/21047024/oklahoma-football-kenneth-murray-declare-for-2020-nfl-draft-missouri-city-elkins https://247sports.com/Article/lsu-tigers-cornerback-kristian-fulton-top-sleeper-prospects-2020-nfl-draft-142263410/ https://www.cbssports.com/nfl/draft/news/2020-nfl-draft-wide-receivers-watch-tee-higgins-making-case-as-most-complete-wr-prospect-in-the-class/ https://www.si.com/college/2018/10/11/laviska-shenault-family-colorado-buffaloes https://www.chatsports.com/indianapolis-colts/a/source/colts-qb-possibilities-jordan-love-15799496 https://floridagators.com/sports/football/roster/cj-henderson/11635 https://247sports.com/Player/Trevon-Diggs-27507/ https://www.youtube.com/watch?v=8wem2YdoBdI https://gopsusports.com/sports/football/roster/yetur-gross-matos/9503 https://www.dawgnation.com/football/dandre-swift-georgia-football-notre-dame https://247sports.com/Player/Justin-Jefferson-91653/ https://bleacherreport.com/articles/2854041-jonathan-taylor-wants-more-more-more https://www.news5cleveland.com/sports/college-sports/osu/ohio-state-running-back-j-k-dobbins-announces-he-will-be-entering-2020-draft